Whatever the crop, farmers must make a profitable return. This means maximising the yield and quality of the crop whilst minimising the inputs and labour required to generate that yield. We offer a number of products tailored to support different crops, from vegetables, horticultural & ornamentals grown in different climates all over the world. But the aim and the benefits are always the same - to help you produce stronger, healthier crops that produce higher yields and better quality yields thus maximising your profits.
V-Zyme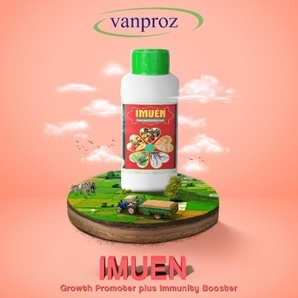 V-Zyme is a unique formulation of micronutrients with amino acid, growth-supporting co-factors and biostimulant, consisting of various minerals suspended in amino acids.
The micronutrients are used in such a peculiar form that ensures the bioavailability of these micronutrients to the maximum extent. Such bioavailability of these micronutrients is rarely seen in any other products available in the market.
V-Zyme helps the plant to maintain a healthy hormone balance. V-Zyme contains plant based alkaloids which trigers gene expression in plants , induces very strong systemic acquired resistance (SAR) in plants.
V-Zyme increases the production/yield in all crops by:
Benefits:
Helps to give immediate plant development boost at the time when it matters most in the vegetative stage.
Helps to give maximum trace minerals bioavailability through leaf, stem, seed and root.
Uptake of soil nutrients, resistance to some pests by enhancing Systemic Acquired Resistance, drought tolerance, stress tolerance, and improves seed germination.
Helps to give boost to the synthesis of enzymes and the process of photosynthesis
Reduces immature dropping of flowers, vegetables & fruits. Increases maturity & improves quality.
Is a natural product, easy to handle, safe to the user and to the environment
Improves post harvest storage life of vegetable and fruit
Decrease the pesticide use by 30-40%.
Ahaar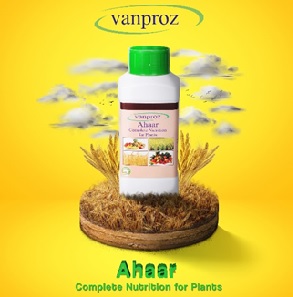 Ahaar is a balanced nutrition for plants, It has been a well-tested and proven product in all geographical regions in Indian subcontinent.
Use of Ahaar will enhance the crop yield to the next level which is not achievable by simple biostimulants.
Ahaar has been designed on the basic principle that complete nutrition i.e micro & macro elements plays a vital role in plant health. It improves the vegetative growth of plants. We have studied the in-depth understanding about how plant hormones work and how they can be manipulated to achieve the highest yields. Ahaar regulates the biosynthesis of several key hormones that stimulate the root development. This root development is important because plant hormones are present in the root tips. Therefore, continuous root tip growth is essential in all stages of growth; germination, vegetative growth, flowering, reproduction, fruit formation and maturity.
Benefits:
Enhace vegetative growth of plants
Fosters large robust root systems with new root tips.
Early vigorous growth of seedlings.
Early and increased nodulation.
Thick and sturdy stalks.
Deep green foliage.
Ahaar can be used:
In furrows
As foliar spray.
In the tank with pesticides.
For seed treatment
Recommended Crops:
All Types of vegetables like Tomato, Chilli, Brinjal, Ladies Finger, Cucurbits, Capsicum
Horticultural plants like Mangoes, Pomegranate, Coconut , Grapes, coffee, tea
Floricultural plants like Jerbera, Rose, Camation, etc.
Cotton, Onion, Pulses and Oilseed crops
Pushp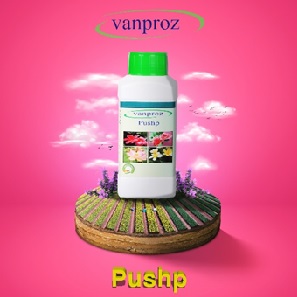 Pushp is specially formulated for ornamental plants. Pushp consist of micronutrients and macronutrients including NPK, plant based metabolites and plant based growth regulators
Pushp increases flower forming substances by altering auxin and cytokinin.
Pushp is formulated in such a manner that it improves flowring and stop immature flowers drop off.
Benefits:
Stimulates flowring of Agricultural and Horticultural crops.
Improves Flower colour, uniformity and size.
Improves post Harvest storage life of flowers.
Improves plant physiology resulted in good phenotypic traits.
Promotes the development of roots and better propagation of rootlets.
Helps to give boost to the synthesis of enzymes and the process of photosynthesis..
Recomended Crops: Ornamental plants
V-Hume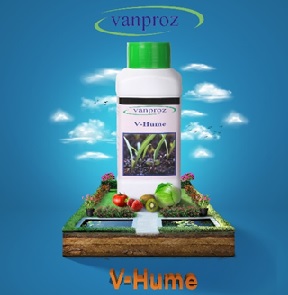 V-Hume is an excellent natural and organic way to provide plants and soil with a concentrated dose of essential nutrients, vitamins and trace elements, Compared to other organic products. V-Hume acts as a conditioner for the soil and as a bio-catalyst and bio-stimulant for the plant. when a plant's cells are nourished with V-Hume then those cells begin to produce more plant growth hormones resulting in Good plant growth.
V-Hume chelate nutrient compounds, especially iron, in the soil to a form suitable for plant utilization. Thus, the nutrient supply of plants is optimized. Furthermore, water holding capacity of soils is increased considerable, which means that the use of water can be reduced substantially.
Benefits:
Sustainable growth and optimal yield.
Builds a sustainable soil eco system.
Extremely high cation-exchange capacities of the soil and Promotes the conversion of nutrient elements (N, P, K + Fe, Zn and other trace elements) into forms available to plants
Regulates the pH-value of soils by neutralizing both acid and alkaline soil..
Builds organic matter.
Increases water holding capacity of soil and thus helps resist drought.
Reduces the need for Chemical fertilizers.
Reduces the availability of toxic substances in soils.
Increases root respiration and root formation.
Crops- Paddy, Wheat, vegetables & horticultural crops.